100_situations
- Kenya challenge
Code:
Red = Vampire multi-chapter
Purple = Oshitaricest
Green = Ken/Zai
Blue = Shiraishi/Kenya
Orange = Osamu/Kenya
Pink = X-men setting
Black = Undecided
(
100_Situations, Oshitari Kenya Challenge
Collapse
)
9/100 COMPLETE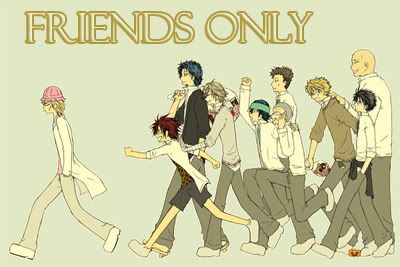 ♥

Comment here if you want adding etc ♥

Banner credit to:
sweetlyserrated ♥
darkspirited1
at
SIGNAL BOOST: SAY YES TO GAY YA
This comes from an article by
rachelmanija
entitled,
Say Yes to Gay YA
.
(click the link for the full article)

Our novel Stranger has five viewpoint characters; one, Yuki Nakamura, is
gay and has a boyfriend. Yuki's romance, like the heterosexual ones in
the novel, involves nothing more explicit than kissing.

An agent from a major agency, one which represents a bestselling YA novel in the same genre as ours, called us.

The agent offered to sign us on the condition that we make the gay
character straight, or else remove his viewpoint and all references to
his sexual orientation.

This isn't about that specific agent; we'd gotten other rewrite requests before this one. Previous agents had also offered to take a second look if we did rewrites… including cutting the viewpoint of Yuki, the gay character.
It's time to stand up and demand change. Spread the word everywhere if you are just as angry and outraged by this.
Originally posted by
Title:
Realisation
Characters:
Oshitari Kenya, Oshitari Yuushi , Zaizen Hikaru
Prompt:
099 - Middle
Summary:
X-men setting. After Kenya's injuries Yuushi plans a nice session for Kenya and even includes Hikaru. He does have other things in mind too though.
Word Count:
5,228
Rating:
NC-17
Warnings
: 3some + Oshitaricest - don't like, don't read C:
(
We won't be watching the films tonight.
Collapse
)
Current Music:

Monster - Lady Gaga
Title:
Connection
Characters:
Kurogane, Fai
Summary:
During the one shot chapter of xxxHolic after everything is over. SPOILERS.
Word Count:
1,335
Rating:
PG-15 - there are sexual references but it's nothing explicit, it's mostly them talking.
Warnings
: SPOILERSSSSSSS. I really can't say this enough.
(
Read more...
Collapse
)
Title:
Tears
Characters:
Oshitari Kenya, Oshitari Yuushi + lots of others XD
Prompt:
065 - Scream
Summary:
X-men setting. A mission goes wrong leaving Kenya injured. Most people are worried about it, only Hikaru's a bit of a prick.
Word Count:
4,180
Rating:
PG-13
Warnings
: Contains torture - only it's not that explicit. Also Oshitaricest if you don't like that, with a little Yuushi vs Hikaru rivalry-ness if you squint.
(
Always.
Collapse
)
Current Music:

30 Seconds to Mars - Hurricane
Title:
Possessed
Characters:
Oshitari Kenya, Oshitari Yuushi + other characters make a cameo
Prompt:
038 - Touch
Summary:
X-men setting. Yuushi has the ability to possess others and after Kenya's run in with Hikaru decides to make sure he realises he shouldn't be wondering too far. There's also a meeting for their next mission where poor Kenya is slightly ridiculed again >>;
Word Count:
4,754
Rating:
NC-17
Warnings
: Contains cousin incest, if you're not cool with that, don't read XD
(
Will you punish me?
Collapse
)
I've already come up with 7 other ideas for fanfics to go with it now and I'm kind of facepalming at myself.
Buuuut... I did come up with powers for them all, but other than the ones mentioned in the fic they can be changed if anyone can propose better ideas that are more original XD
(
May the powers be with you! ...Errr...
Collapse
)
...s-so many characters. But yes, there are two divisions (Yukari and Shouta obviously go with Shiten and Erina with Hyoutei...) with them handling different things. There are NPC others at the school + other teams, but they won't play any part (save for An and Kippei and guess... if I include them)
ANYWAY.
This fic is mainly a... everyone wants Kenya fic. OTL. OBVIOUSLY I will never change. I've already done Zaizen/Kenya, I have plans for Yuushi/Kenya, Atobe/Zaizen + Yuushi/Kenya (Yeah don't ask, it's complex It ...is some weird mix of all 4 of them but unlike the later mention Yuushi is physically present orz), Atobe/Zaizen, Yuushi/Kenya/Zaizen, Atobe(partly possessed by Yuushi)/Kenya/Zaizen, Koharu -> Kenya, Erina hitting on Kenya...
Though I'm pretty sure Kin-chan and Miyuki will hook up, as will Chitose and Shiraishi, and if I do include An... I am likely to put a little Atobe/An in there orz. I'm me, I know what I'm like. Though these are just things that are hinted at as I'm lazy. That and my prompts are for
Kenya
fics so. x:
Need I go on? Clearly I should not be allowed near... myself. Huh. Doesn't quite work... XD
Let's see if I actually write these fics now! D:
I actually even play on doing a proper architectual plan of the school building too x: We'll see how that goes...
As uh some people probably saw, I did one one shot of ZaiKen based on x-men ...